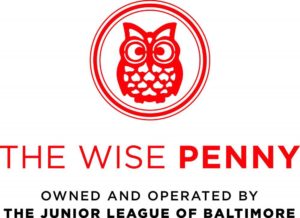 The Wise Penny, located at 5902 York Road, Baltimore, MD 21212, is a thrift store owned and operated by the Junior League of Baltimore. The shop provides quality new and "gently used" clothing and household items at affordable prices. Proceeds are used for funding community projects. Since opening in 1970, The Wise Penny has raised over $2.5 million to support the Junior League and its programs.
The Wise Penny was awarded Best Designer Thrift Store 2012 & Best Shop for Bargain Hunters 2016 by the City Paper!  Shop with us today and score your own fabulous find!
Wise Penny Sale Calendar
50% Off Sale: August 17-18
50% Off Sale: September 7-8
50% Off Sale: September 21-22
Coat Sale: October 5-6
50% Off Sale: October 19-20
50% Off Sale: November 2-3
50% Off Sale: November 16-17
50% Off Sale: December 7-8
50% Off Sale: December 21-22
Treasures & Trinkets Sale: February 21-23
Better Dress Sale: March 27-29
New Sales Model for the Wise Penny!
As of June 1, 2019 The Wise Penny has implemented an updated store management model, which was modeled off of other Junior League thrift stores. This new model impacts 3 main areas:
1) inventory management,
2) sales and events schedule, and
3) committee role and structure.
This model was introduced as a way to streamline staff and volunteer time, increase inventory movement and sales, and maximize committee impact.
New merchandise tags! Under the new model, all inventory on the floor is tagged with a color tag that corresponds with the month the item is received and processed to go out on the sales floor. All off-season donations will also be tagged with a corresponding tag before going into off-season storage.
Wise Penny Discounts
Every Tuesday, current students, seniors over age 55, and active or retired military personnel receive 20% off of regularly priced Wise Penny items. Must show current identification.
Every Thursday, all customers receive 20% off entire purchase from 5:00-7:00 p.m.
Please note discounts cannot be combined with other offers and do not apply to previously reduced items or our Boutique Items.
DONATIONS ACCEPTED DURING ALL BUSINESS HOURS
Click here for a list of what we can and cannot accept
Follow the Wise Penny on social media to hear the latest news on sales and events. Find us on Facebook, Twitter, and Instagram.
5902 York Road, Baltimore, MD 21212 (next to the Senator Theatre)
410-435-3244