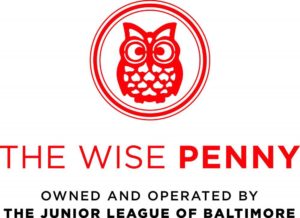 Thank you so much for your support. The Wise Penny is closed until further notice. We are not accepting donations at this time. 
The Wise Penny, located at 5902 York Road, Baltimore, MD 21212, is a thrift store owned and operated by the Junior League of Baltimore. The shop provides quality new and "gently used" clothing and household items at affordable prices. Proceeds are used for funding community projects. Since opening in 1970, The Wise Penny has raised over $2.5 million to support the Junior League and its programs.
The Wise Penny was awarded Best Designer Thrift Store 2012 & Best Shop for Bargain Hunters 2016 by the City Paper!  Shop with us today and score your own fabulous find!
Wise Penny Sale Calendar
50% Off Sale: October 19-20
50% Off Sale: November 2-3
50% Off Sale: November 16-17
50% Off Sale: December 7-8
50% Off Sale: December 21-22
50% Off Sale: January 4-5
50% Off Sale: January 18-19
50% Off Sale: February 1-2
Treasures & Trinkets Event: February 21-23
50% Off Sale: March 14-15
Better Dress Event: March 27-29 – Postponed!
Be sure to follow the Wise Penny on Facebook and Instagram to see some of the latest items in the store, and stay up-to-date on additional pop-up sales throughout the year!
New Sales Model for the Wise Penny!
As of June 1, 2019 The Wise Penny has implemented an updated store management and sales model, which was modeled off of other Junior League thrift stores. This model was introduced as a way to streamline staff and volunteer time, increase inventory movement and sales, and maximize committee impact.
Look for the new merchandise tags! Under the new model, all inventory on the floor is tagged with a color tag that corresponds with the month the item has been placed on the sales floor.
The following month, that item is automatically 25% off.
The next month, that item is automatically 50% off.
The month after, that item is automatically 75% off.
Tuesday is Wise Penny Discount Day: Every Tuesday, current students, seniors over age 55, and active or retired military personnel receive 20% off of regularly priced Wise Penny items. Must show current identification.
DONATIONS ACCEPTED DURING ALL OPERATING BUSINESS HOURS
Click here for a list of what we can and cannot accept
Please visit our Facebook page for updates on our store schedule and additional information.