Young Woman Leadership Scholarship
The Junior League of Baltimore is pleased to announce the selection of Ms. Charu Singh as the 2022 recipient of its Young Woman Leadership Scholarship. The JLB also awarded two Leadership Awards to Ms. Hira Khan and Ms. Assata Hanif.
The Young Woman Leadership Scholarship is an annual scholarship program that awards $2,000 to a Maryland female graduating senior who has performed outstanding leadership during her high school years. The Junior League of Baltimore is an organization of women committed to developing the potential of women and improving communities through the effective action and leadership of trained volunteers. To be considered for this scholarship, applicants must meet the following criteria:
Has an outstanding leadership record, has achieved academic success, and shows the promise of continued success;
Resides in Maryland and attends a Maryland public, charter, private or parochial high school in one of the following counties: Baltimore City, Baltimore County, Howard County, Anne Arundel County, Carroll County, or Harford County; 
Is a female graduating senior with plans to matriculate to an accredited, two- or four-year, post-secondary institution in Fall 2021. Applicants must provide verification of college enrollment. Funds will be paid directly to the college or university in which the student enrolls, in the student's name; and
Is not a current member or immediate relative of a current member of the Junior League of Baltimore. 
The scholarship application for 2022 is now closed. Applications for 2023 will be accepted beginning in January, with recipients chosen in May and honored at the League's Annual Meeting. 
For any questions, contact scholarship@jlbalt.org.
Visit this page to make a gift to the Scholarship Fund.
---
Spotlight on our award winners!
2022 Scholarship Winner: Charu Singh
2022 Leadership Award winners: Hira Khan and Assata Hanif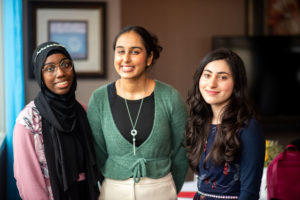 The Junior League of Baltimore is pleased to announce the selection of Ms. Charu Singh as the 2022 recipient of its Young Woman Leadership Scholarship. A soon to be graduate of Glen Burnie High School, Ms. Singh is a National AP Scholar. This inspiring change maker has been honored with both the United Nations National Volunteer Service Award and United Nations Zero Hunger Hero Volunteer Service Award. Ms. Singh founded two community impact projects, WE Care Kits that provided toiletries and medical supplies to homeless persons, and the Access to Education Passion Project, which put artistic and coding supplies into the hands of immigrant children. In addition to service work, Ms. Singh has been a hospital volunteer, participated in a pathology internship and served as President of the BioMedical Allied Health Student Council and Vice Chair and Co-President of the Foster Life Improvement Program. Ms. Singh plans to attend the University of California, Irvine.
We are further thrilled to share that thanks to the work of the Scholarship Committee and the support of donors, this year the Junior League of Baltimore has expanded the scholarship program to offer two Leadership Awards. Ms. Hira Khan, who will be graduating from Wilde Lake High School, is the Founder and President of the Humanitarian & World Affairs Club, a committee member of the Student Government Association, and a volunteer with Best Buddies, which provides peer mentoring for individuals with disabilities. Ms. Assata Hanif will soon graduate from Chesapeake Science Point Public Charter School. She is the Vice President of the Black Student Union, has served on the Anne Arundel County Youth Advisory Council and Student Government Association, and was a participant in the ACLU Summer Institute. Both young women plan to attend UMBC.