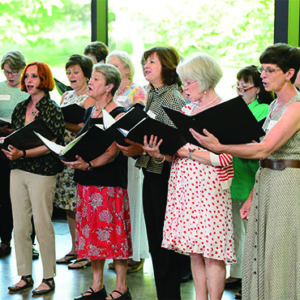 This Junior League of Baltimore choral group, formed in 1957, is the oldest continuous community project of our League. The Larks provide not only recreation, but emotional support to the elderly, disabled, and people in need through the "gift of song". A crucial part of The Larks outreach in the Baltimore community is to engage with its audiences in sing-a-longs. These bring smiles, laughs, memories, or just the tapping of a toe to those often isolated from the community due to age or disability.
The Larks rehearse or perform weekly from September to May and is led by our professional music director Leo Wanenchak. The group's volunteer mission is to bring the gift of music and camaraderie to more than one thousand people yearly. The Larks perform in nursing homes senior centers, hospitals and Junior League of Baltimore.
If you would like to contact The Larks to schedule a performance, please email jlbhq@jlbalt.org.