Little Black Dress Initiative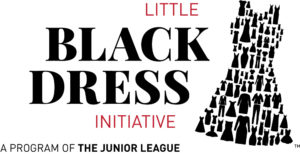 Follow the Junior League of Baltimore's 2nd Annual Little Black Dress Initiative!

March 1-7, 2020
JLB ambassadors wear one black dress (or outfit) each day of LBDI week to raise awareness and funds to combat the impact of poverty.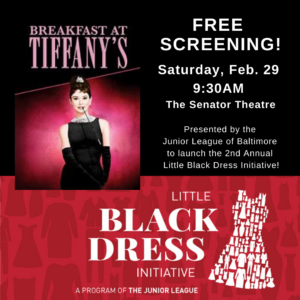 Join us Saturday, February 29, 2020, as we kick off the LBDI with a screening of Breakfast at Tiffany's at the Senator Theatre at 10:00 am (doors open at 9:30 am).
On Sunday, March 1, 2020, the JLB will proudly begin its second Little Black Dress Initiative, also known as LBDI, and will run through Saturday, March 7, 2020.
According to the 2014 Census, 24% of Baltimore residents live below the poverty line. Living in poverty is one of the greatest threats to women and healthy child development in society today.
What is the Little Black Dress Initiative?
LBDI is a week-long, social media-driven fundraising campaign that uses the iconic 'little black dress' to increase awareness about poverty and its effects. Junior League of Baltimore members will serve as ambassadors in the community, wearing one black dress (or outfit) for five consecutive days, speaking about the issue, and harnessing the power of their social media platforms to drive online donations in support of our mission. The LBDI campaign provides an opportunity to raise awareness of the pervasiveness of poverty in Baltimore City and the surrounding area.
Raising awareness of the difficulties facing those in need and without access to resources;
Raising awareness on how limited resources can impact daily life; and
Raising funds to support the programs and services of the JLB to continue the mission of training and empowering women leaders in the community.
Where will the proceeds go?
The first $4,000 raised will fully fund the Partnership & Service committee for the 2020-2021 League year. This committee works with the JLB's three partners: Asylee Women Enterprise, House of Ruth Maryland, and Women's Housing Coalition. The remaining funds raised during the JLB's 2019-20 LBDI campaign will support the JLB's annual fund, which makes possible the philanthropic work and mission of the Junior League.
To learn more about our campaign, follow us on Facebook and Instagram or email fundraisingvp@jlbalt.org.
When did the LBDI begin within the Junior League?
The Junior League of London launched the first LBDI during London Fashion Week in February 2014.
Thank you for supporting our Ambassadors with your donations to the 2020 LBDI Campaign! 
2020 Ambassadors
Aimee Chapdelaine
Jazzmin Drennon
Keila Foster
Rachel Graham
Candice Logan-Washington