How to Grow Your Professional Network (5:00-6:00pm)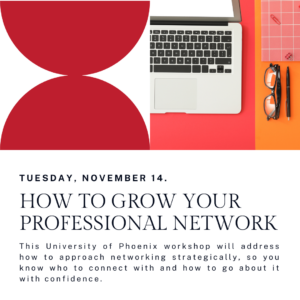 How to Grow Your Professional Network (University of Phoenix)
This workshop will address how to approach networking strategically, so you know who to connect with and how to go about it with confidence. Strategic networking helps you proactively grow and maintain relationships that advance your career goals. Whether you're looking for advice, information, or job leads, it's important to cultivate a network of valuable connections to support you on your career journey.
In this webinar, you'll learn how to
1. Adopt a networking mindset
2. Develop a networking strategy
3. Conduct informational interviews
4. Expand your network
5. Transition from networking to pitching yourself for job opportunities
This workshop will take place via Zoom. Details provided upon registration. This is a free event. Visit this page to reserve tickets eventbrite.