Women's Housing Coalition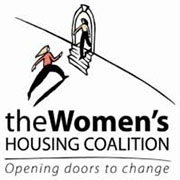 The Women's Housing Coalition is dedicated to breaking the cycle of homelessness for women and children by providing affordable housing and supportive services to enable them to sustain social and financial independence.
The WHC serves homeless, low-income women with disabilities and families. In addition to housing, WHC services include case management, advocacy and life skills training. Services are tailored to meet the needs of each woman or family and are based on their individual situations and goals.
The Women's Housing Coalition was founded in 1979 by a group of women who were distressed by the number of homeless women in Baltimore City with no place to go. By 1980, this group of women began finding buildings where those women living on the streets could go to have a chance at a fresh start.
In 1990, WHC opened Maryland's first single room occupancy (SRO) project for the homeless and also the first permanent housing facility for homeless women. This residence, the Calverton, is still owned and operated by WHC today.