JUNIOR LEAGUE OF BALTIMORE ANNOUNCES 2020 SCHOLARSHIP WINNER
GW Carver's Sage Evans-Rainey receives the Young Woman Voluntarism Scholarship Award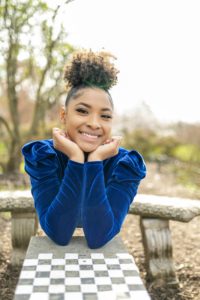 The Junior League of Baltimore has presented its 2020 Young Woman Voluntarism Scholarship to Sage Evans-Rainey of George Washington Carver Center for Arts & Technology High School. The annual scholarship program awards $2,000 to a Maryland female graduating senior who has performed outstanding volunteer service throughout her high school career.
A talented dancer, Evans-Rainey trained at the Debbie Allen Dance Academy in California and received a national ballet intensive scholarship from Brown Girls Do Ballet, Inc., where she served as a peer-mentor to encourage other young ballerinas of color all over the world. Evans-Rainey's most meaningful volunteer experience was to found a nonprofit, Dance Dreams of MD, and its annual scholarship program that supports aspiring dancers of color and works to address the negative effects of the lack of funding, resources, and representation in the dance community. To date, her organization has awarded three annual intensive dance training scholarships, provided over $5,000 in cost-free dance programming and grants, and conducted training workshops for dancers with enormous potential and financial need.
Evans-Rainey's dance journey has taught her "what community is and why it is so important to always seek ways to support and encourage others to reach their goals!"
"We are thrilled to support such a talented young leader with this year's scholarship, and look forward to the incredible success that is ahead for Sage! We wish her the best of luck at New York University this fall." says 2019-20 JLB President, Brina Masi Eades.
Evans-Rainey, who was accepted to 40 colleges and professional dance training programs across the country, will major in Dance at New York University's Tisch School of the Arts in Fall 2020.
The Junior League of Baltimore is an organization of women committed to promoting voluntarism, developing the potential of women, and improving communities through the effective action and leadership of trained volunteers.